Greeting and thank you cards are a great way for any business to stay close with their associates and can improve your business by offering kind sentiment during holiday seasons. It is very professional and highly recommended for all businesses to send out cards to anyone who has helped you establish your success as a company. Doing so will demonstrate your appreciation and thanking customers for their loyalty is always a good idea.
Appreciate Those Who Help You Succeed
Customers, Suppliers, and employees account for any success you have had in the past, and sending them your regards through a greeting card is highly recommended.  It establishes customer loyalty and can help make the choice of purchasing from alternative providers quite difficult. Customers are the foundation of your company's success and thanking them for trusting your product and/or service is imperative. It demonstrates to customers that you both stand behind your products and appreciate their business.
It is equally important to demonstrate appreciation towards your suppliers. Without any suppliers, expanding your business would be quite difficult. Sending cards to your suppliers not only validates that you appreciate them, but it can also help your supplier better appreciate your business as well. Thanking your suppliers could lead to future cost reductions and accommodations as strong supplier relationships in business are very important.
It goes without saying that it is always a great idea to also show appreciation to your employees. They are the people who help run your business and without them your business cannot endure and thrive. Consider sending a greeting card to your employees this holiday season along with a gift card to showyour appreciation. It will help boost company moral and will act as a personal thank you in recognition of their hard work and effort.
Sending A Thank You Card "Just Because" Goes A Long Way
It is almost procedure and expected for all businesses to send out holiday cards to their customers. A great way to increase the value of any card is by sending them on days other than holidays. You can also add value to your cards by adding gifts to them. Some gifts to send with your card include; wine bottles, dinner vouchers and gift cards as mentioned above. The more thoughtful the gift, the more impact it will have and the recipient will value you as a customer, supplier, or employer. You can also offer your own products as a gift as a gift to your loyal customers. These free products will encourage them to try new merchandise which can also potentially lead to future sales.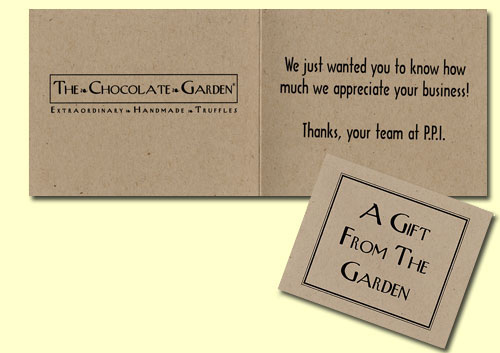 Sending thank you cards to your associates on days other than holidays is another great way to make a positive impact. There are numerous occasions other than holidays where you can demonstrate your appreciation. For example, a good opportunity to send a card might be after an important meeting. Thanking a customer or supplier for their time and letting them know that you look forward to doing future business with them can actually go a long way in establishing a good relationship. Sending a card for major life events like marriages or business milestones can also be beneficial. Showing that you care for your associate's well-being will demonstrate that you are a good friend. Lastly, sending cards out-of-the-blue can really hit the hearts of your partners. Out-of-the-blue greeting cards will demonstrate to the recipient that you truly do appreciate them and you are not sending them a card simply because it is protocol or it is "that time of year."
Things to Remember
Sending personalized greeting cards can be quite beneficial for any company. Consider they are best used to establish loyalty and convey appreciation but can lose their effectiveness if you try to make a sales pitch. Be sure to always use premium paper stock and assorted finishes to make your card admirable.
The Marsid M&M Group can accommodate all your greeting and thank you card printing needs. Our experienced staff can even help you design your greeting card to perfection.
For a free quote on greeting or thank you cards please click here to get an estimate online or contact us at (516) 334-1603.