Annual Reports are all encompassing records, which, report a company's activities over the past year. Their purpose is to disclose information regarding a company's activities and financial performances. Publicly traded companies are required to produce annual and sometimes quarterly reports.
Annual reports are also an excellent method of attracting investors. Most small business pursue additional funding for expansion, and a sleek annual report can be the difference between getting those investors on board.
For a small business, tracking finances and cash flow can be an excellent indicator of areas, which, are over or under performing. Annual reports are a simple yet effective way highlight positive aspects of the past year.
We offer an array of finishes to elevate your annual reports beyond elegance without affecting your profit margins. Choose from gold, silver, bronze and many other metallic foil stamping finishes. Add embossing to make your annual report tangible and tactile; something one can really feel, but also leaves a lasting impression. Our extensive experience in printing annual reports gives us the ability to impress anyone and everyone.
With a variety of styles and options to choose from, feel free to call us at 1877-mmprint to prepare custom annual reports that best represent your brand. Speak with a print professional that can give you suggestions and answer your questions. Or you can always simply request a quote.
Bindary Options
Paper Options
Related Products
Helpful Ideas and Articles
Bindary Options
For More Information check out our
Bindery Options Page
or click on the images below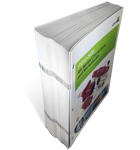 Saddle Stitched
Sheets of paper are folded and bound with staples along the edge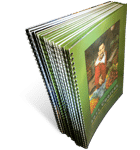 Wire-O
Sheets are bound using double loop metal rings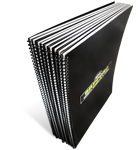 Spiral Bound
A plastic coil is used to bind pages together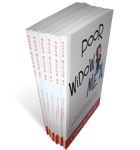 Perfect Bound
Inside sheets are glued into a thick cover creating a seamless bind
Paper Options
Related Products
Helpful Ideas and Articles
Templates
Choose the correct Annual Report printing template by selecting the appropriate size and format below.
These templates contain visual guides to help you create print-ready artwork that you can later upload to us for printing. If you need an estimate, please fill out the Estimate Request Form above.
Shipping Options
Free Shipping via Ground!
We ship your order via Ground free of charge.
Check the map
to see how many days your package will be in transit.
Overnight, 2 and 3 Day Shipping
You might need it by tomorrow morning or even 2-3 days from now – We have you covered.
Ship It Your Way Using Your Account
Having your own shipping account has its perks. Feel free to supply us with your preferred shipper's account number.