Custom Booklet Printing
Multi-Page Booklets for Professionals, Businesses and Organizations
How Custom Booklets Can Help Your Business
Custom booklet printing is an inexpensive and powerful way to advertise your products and services. Booklets can tell a story, explain the production process, set guidelines for usage, list benefits, communicate event schedules, map out exhibitions, the possibilities are endless. With years of experience and research, our team has custom booklets down to a science to achieve the highest quality at competitive prices.
We offer many different finishing options to give your custom booklet an amazing look. Customize your cover with Foil Stamping or Embossing; add a custom die cut, maybe design it with an irregular shape. We can do it all, quickly and affordably.
You can print booklets on multiple gloss, matte or uncoated paper stocks. We have additional options like aqueous, varnish coating, or UV coating to make the graphics in your booklet stand out. When you print booklets with us, the quality resonates and impresses.
Custom Booklets To Fit All Of Your Needs
Employee Handbooks
Product Catalogs
Event Programs
Reporting
Cookbooks
Membership Directories
Instruction Manuals
Training Manuals
Policy Manuals
Reference Guides
The MMPrint.com Custom Booklet Printing Difference
Free Ground Shipping
Being partners with UPS, FedEx, and USPS has its perks so we like to pass on our savings to you! We offer Free ground shipping on all orders within the contiguous United States and discounted rates on expedited shipping.
Hospitality level service meets printing expertise
With over 40 years of experience, we know a thing or two about exceeding our client's expectations. Each project is assigned to your own print professional who will see your custom bookmark printing through the print process and will be available to answer all of your printing questions.
Order what you need, not what the industry thinks you need
With our state of the art custom print shop, we can print any quantity for your bookmarks! From 1 to 1,000,000 or anything in between.
Custom sizes and ideas with ease
Our expert print specialist can assist you with any of your custom printing needs whether it's a size not listed or even a bookmark in the shape of a printing press! We can do it.
A unique addition to each bookmark with UV Coating
With the addition of UV coating, your bookmarks will stand out from the rest with a super high gloss shine that will be sure to catch anyone's attention.
Industry changing turnaround time
With our state of the art facility, we are able to complete most custom bookmark jobs in 3-5 business days from proof approval (Contact your sales rep for estimated production time of your job). Need it faster? Most bookmark orders qualify for one-day production! Ask your sales representative for more details.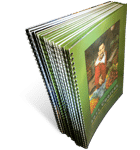 Wire-O
Sheets are bound using double loop metal rings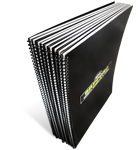 Spiral Bound
A plastic coil is used to bind pages together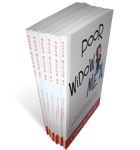 Perfect Bound
Inside sheets are glued into a thick cover creating a seamless bind
Paper Options
Gloss Coated
Our premium Gloss stock is shiny and vibrant, making your colors pop and your images crystal clear. This paper is great for displaying high quality product images.
Matte Coated
Our dull coated stock is a semi gloss option that is widely used in industries such as fashion, jewelry, art and more.
Uncoated
Our uncoated stock is a superior natural-feel paper that is not glossy. It is perfect to write on and is great for business cards, notepads and greeting cards.
Finishing Options
There are many options when it comes to finishing your custom booklet. Whether you want your pages to be die cut to a specific shape or you want to give your cover a textured, stamped look, the only limit is your imagination.
We offer the following print finishing options:
Foil Stamping – Also known as hot stamping, this process gives the applied surface a shimmering, metallic appearance using pre-dried inks or special foils.
Embossing—This process uses pressure to raise the desired design, which gives the paper visual and physical texture.
Die cut—Whether you want an entire booklet shaped like a typewriter or perhaps a small window on the cover, offering a peek inside—die cutting allows us to create custom cuts and shapes within the booklet.
Shipping Options
Free Shipping via Ground
We ship your order via Ground free of charge. Check the map to see how many days your package will be in transit.
Overnight, 2 and
3 Day Shipping
You might need it by tomorrow morning or even 2-3 days from now – We have you covered.
Ship It Your Way Using
Your Account
Having your own shipping account has its perks. Feel free to supply us with your preferred shipper's account number.
For more information, terms and conditions of free shipping and detailed shipping times click here.
Choose the correct Lookbook template by selecting the appropriate size and format below.
These templates contain visual guides to help you create print-ready artwork that you can later upload to us for printing. If you need an estimate, please fill out the Estimate Request Form above.