Event Programs Perfect for Weddings, Ceremonies, Recitals & Memorials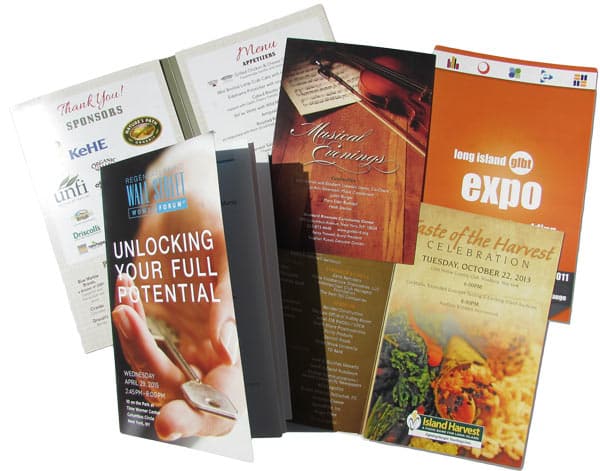 Why Custom Event Programs
One way to organize a successful event is to create a detailed and appealing event program to keep your attendees well informed and interested. The Marsid M&M Group can print your aesthetic and informative Programs without going over your budget. Event Programs can be used for many different applications such as:
Anniversary and Wedding Receptions
Sports Award Ceremonies
Theater Productions
Conventions and Expos
Funerals and Memorials
Dance and Music Recitals
Commencement and Graduation Ceremonies
For each of these options, a program typically contains several pages going over subjects such as the itinerary, detailed information about the speakers, the menu, and various pictures and images of speakers or participants.
Programs are not only used as an organizational tool, but also can be kept as a souvenir by your attendees. If it is a special and memorable occasion, then a program with pictures and a list of speakers and events will help to permanently encapsulate the memories. They also serve as a useful way to thank and promote any sponsors that may have helped out your organization.
Common Attributes for Program Printing
Custom program booklets can be printed in a variety of sizes with different paper stocks and color options. The common size for a program is 5.5″ x 8.5″, but custom sizes can also be printed. Typically, these books come saddle stitched and can contain 8 or more pages. Alternatively, they can be made from a single sheet of paper, folded in half or with a custom fold. Feel free to contact us with any questions about unique specs for your event program.
Templates
Choose the correct Program template  by selecting the appropriate size and format below.
These templates contain visual guides to help you create print-ready artwork that you can later upload to us for printing. If you need an estimate, please fill out the Estimate Request Form above.