Waterproof Synthetic Restaurant Menus
Tearproof and Stain Resistant, Durable Modern Menus that Feel Like Paper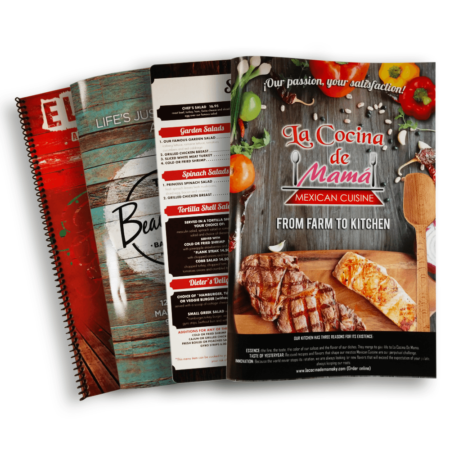 How Synthetic Waterproof Menus Can Help Your Restaurant
Synthetic Paper is a unique material that is great for menu printing. Not only does it have the feel and look of high quality, thick paper, but it is also extremely durable. Since this paper is made out of plastic, it is naturally waterproof and tear-proof as well as stain resistant. Restaurant menus need to stand up to harsh conditions such as water and wear; our Synthetic Menus will do just that. 
They last much longer than paper menus and look great too! With years of experience printing synthetic menus for large restaurant chains to small diners and food trucks, we know a thing or two about the need for durability of your menus. 
Synthetic is also available for other applications where durable documents are needed.

There are several benefits to printing on synthetic paper as well. Since we print directly onto synthetic there is no need for additional finishing that will hinder your customers view at your mouth watering meals as well as making colors more vibrant. These waterproof menus will still be:


Lightweight
Elegant
Flexible
Cost-effective
Since synthetic menus are derived from PVC,  they are waterproof and tearproof as well as being stain resistant.
With Synthetic Menus there is no need for lamination that will hinder your customer's view of your beautiful menu. While many restaurants use lamination as a way to preserve the life of their menus, it sometimes can cause more harm than good. 
Not only is it more expensive than Synthetic Menu sheets but it also is susceptible to cracking, peeling and puncturing which will ultimately decrease the life of your menu. 
Also, once the lamination's seal is broken liquids and bacteria can seep into your menu causing the condition to worsen.
The Marsid M&M Waterproof Menu Printing Difference
The original waterproof menu printer

With our own Research and Development team for Waterproof Menu Printing, we put our menus through grueling tests to make sure they can stand the test of time in your restaurant.
Free Ground Shipping

Being partners with UPS, FedEx, and USPS has its perks so we like to pass on our savings to you! We offer Free ground shipping on all orders within the contiguous United States and discounted rates on expedited shipping.
Hospitality level service meets printing expertise

With over 50 years of experience, we know a thing or two about exceeding our client's expectations. Each project is assigned to your own print professional who will see your custom synthetic menu printing through the print process and will be available to answer all of your printing questions.
Order only what you need

With our state of the art custom print shop, we can print any quantity! From 1 to 1,000,000 or anything in between.


Custom sizes and shapes with ease

Our expert print specialist can assist you with any of your custom printing needs whether it's a size not listed or even a synthetic menu in the shape of a dinner plate! We can do it.


Industry changing turnaround time

With our state of the art facility, we are able to complete most synthetic menu jobs in 3-5 business days from proof approval (Contact your sales rep for estimated production time of your job). Need it faster? Most products qualify for one-day production!  Ask your sales representative for more details.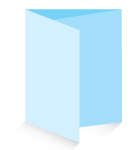 Folded Menu
Trifold, Bifold, or Custom Fold Menus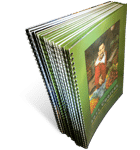 Wire-O
Sheets are bound using double loop metal rings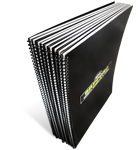 Spiral Bound
A plastic coil is used to bind pages together
Paper Options
Synthetic Paper
This relatively new paper stock isn't quite paper. It's made from a plastic material that is both durable and professional. Images and colors still pop off the page, and the menus are tear proof and water resistant, making them last in even the toughest kitchens


14 Mil Synthetic Paper
Most commonly used for printing flat Single Sheet Menus as well as Menu Books that are bound using a plastic spiral coil or metal wire-o binding. Each sheet has 2 views or pages, the front, and the back.
12 Mil Synthetic Paper
Most commonly used for folded or saddle stitched menus as the slightly thinner synthetic paper allows the menu to stay folded. Saddle Stitched menus come in page/view counts that are divisible by 4 while folding menus can have a bifold, trifold or even a custom folded!4
Form Factors
Waterproof Menu Form Factors
Synthetic Menus have varying thicknesses allowing it to be used to make either Single Page Menus or Menu Books.


Menu Books
Multi-Page Menu booklets can be printed on Synthetic Paper. These are bound using a plastic spiral coil or metal wire-o binding. Choose your number of pages to get a quote (each sheet counts as 2 pages)
Single Page Menus
Synthetic Single Sheet Menus are made to last! Print your Trifold, Bifold or Flat menus on synthetic paper to make them last, without being torn or having water damage. Custom Folding is available as well!
Templates
Choose the correct Waterproof Menu Template by selecting the appropriate size and format below.
These templates contain visual guides to help you create print-ready artwork that you can later upload to us for printing. If you need an estimate, please fill out the Estimate Request Form above.
Shipping Options
Free Shipping via Ground
We ship your order via Ground free of charge. Check the map to see how many days your package will be in transit.
Overnight, 2 and
3 Day Shipping
You might need it by tomorrow morning or even 2-3 days from now – We have you covered.
Ship It Your Way Using
Your Account
Having your own shipping account has its perks. Feel free to supply us with your preferred shipper's account number.
Free shipping terms and conditions and shipping time details