Deliver Your Takeout Menus to Every Door in Town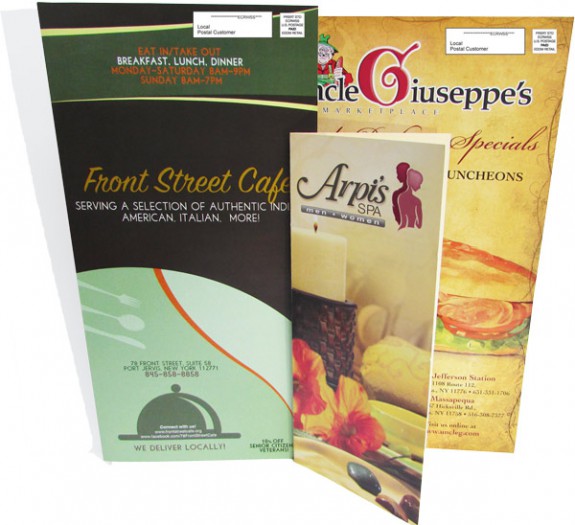 Every Door Direct Mail brochures are a great way to share detailed information about your business with your local customers. They are great for making lists of the items or services your business offers or to present detailed descriptions with pictures of your products. EDDM brochures are also useful for dividing your information into sections to help organize your message into concise and direct parts.
Many different Businesses commonly use EDDM Brochures for insurance pamphlets, real estate listings, full-color menus, takeout menus, product brochures and catalogs as well as anything that needs to display multiple pictures and descriptions. Brochures can also be folded in half or tri-folded to offer space to advertise with coupons and promotions for your business.
We offer full preparation of your EDDM mailpieces, including bundling them into stacks of 100 with the front facing slip properly displayed as per USPS postal regulations. Your brochures will then be shipped directly to you and all you have to do is drop them off at your local post office with your postage payment if you haven't already paid online.
EDDM
Folding
Paper
Related Products
Helpful Ideas and Articles
EDDM
EDDM (Every Door Direct Mail) is a type of Postage that delivers mailpieces to every door in a specified mail route or zip code. To choose your mailing routes, visit 
this link
. The USPS requires all EDDM Mailings to be:
at least .007″ thick
Between 200-5000 pieces per day
Less than 3.3 oz
Also, One of the following conditions must be met to qualify for EDDM (Length is always the longest side):
Folding
Paper
Related Products
Helpful Ideas and Articles
Templates
Choose the correct EDDM Take Out Menu template by selecting the appropriate size and format below.
These templates contain visual guides to help you create print-ready artwork that you can later upload to us for printing. If you need an estimate, please fill out the Estimate Request Form above.
Shipping Options
Free Shipping via Ground!
We ship your order via Ground free of charge.
Check the map
to see how many days your package will be in transit.
Overnight, 2 and 3 Day Shipping
You might need it by tomorrow morning or even 2-3 days from now – We have you covered.
Ship It Your Way Using Your Account
Having your own shipping account has its perks. Feel free to supply us with your preferred shipper's account number.