Perfect for booklets and presentations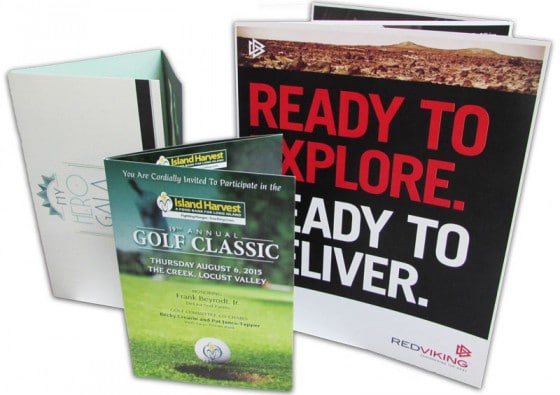 The Benefits of Six Panel Brochures
Our 6-page printed brochures fold down to 8.5"x11"—which means you get six, full letter-size panels to work with. So, whether you're looking to print a custom brochure printing that packs a visual punch, seeking a cheap alternative to saddle stitched custom booklets printing or you'd like a sleek document for your next presentation—these unique tri-fold brochures are sure to wow.
An affordable booklet alternative
Ordering custom-printed saddle stitch booklets can lead to long turnarounds, extra finishing expenses, and costly paper choices. 6-page brochures are an economical and convenient alternative for short booklets for your business marketing, trade shows, trainings, and events. A 6-page brochure allows for your designer to enjoy spacious, 8.5"x11" size panels that can be worked into large spreads for maximum impact without being disrupted by unsightly staples or coils.
Jaw-dropping presentations and custom marketing materials
We've all seen the standard size, tri-fold brochure before. In fact, we see them so often that our brains tend to filter them out. Whether you're creating a print version of a training or looking for a new way to gain interest in your product at a tradeshow, these large 6-panel mega brochures are an amazing way to catch attention without taking up valuable space.
With an 8.5"x11" folded size, the large panels on our 6-page brochures are perfect for impactful designs that feature your product and it's benefits clearly, with extra space for the finer details.
Our 6-page brochures feature:
6 pages of 8.5"x11" space for custom printing
Spacious panels that can fit far more information than a traditional brochure
Require no special binding
Full-color, high-quality paper stock
Your choice of fold finish: tri-fold brochure, accordion brochure, or z-fold brochure
Our work is always custom, and we offer graphic design services to assist you with your brochures.
Mailing services
and
EDDM preparation
are also available for brochures that will go directly to your customer's homes.