Impress Your Clients with Customized Presentation Folders
Presentation Folders are an extremely useful tool for company meetings, marketing packages and product samples. There are several options available for folders depending on your specific needs. Make something that will excite your clients and show off the full potential of your products and services. Our expert print team can help you pick out the perfect marketing package. We even have a design team on hand that can set up the graphics for your folders and flyers.
Standard Presentation Folders
The Perfect Pocket Folder
Impress your clients and partners with presentation folders designed with your company name, logo, and stunning visuals.
Whether you need bulk quantities for a conference or short runs for a special event, we've got you covered.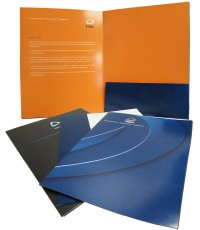 Digi-Pocket Folders
High-Quality Folders with No Minimum
showcase your company's name and logo while creating a design that is both striking and professional. Not only will your folders look great, but they will also help keep your documents organized and easily accessible.
No minimums required
Cost-effective option for short runs
Get Quote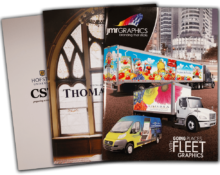 Presentation Folder Booklets
Pocket Folders with Stitched Booklet Inserts
Enhance the value of your pocket folder by incorporating a multi-page booklet into the center. This booklet is a versatile marketing tool that can help you communicate a wealth of information about your company's products, services, or industry statistics. With ample space to provide in-depth information and visuals, a stitched-in booklet allows you to convey a compelling story to your target audience.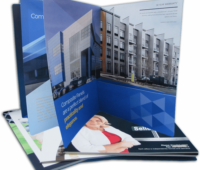 Digi-Pocket Folder Booklets
Combine the benefits of a folder and a booklet with Digi-Pocket Folder Booklets
Bulk up the content of your digi-pocket folder with a booklet stitched into the center. The multi-page booklet can be any number of pages and contains product and company information or statistics. The go-to option when looking for a cost-effective option for short runs with no minimums.
Get Quote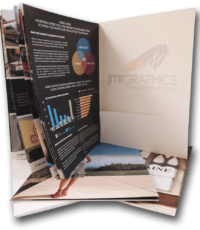 Cascading Stepped Insert Pocket Folders
Organized Marketing Inserts for Pocket Folders
Stepped sheets allow you to organize your materials in an eye-catching and functional way, ensuring that your clients can easily navigate through your content and find the information they need.
With stepped sell sheets, you can create a visually appealing layout that showcases your products, services, or promotional materials in a clear and concise manner.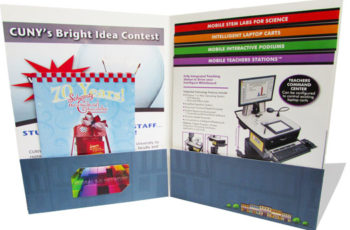 Presentation Folder Templates