Standard Mail and First Class Postage Requirements
When designing your mailing for print, it is important to keep in mind what the post office requires. Not having the proper size mailing can delay or block your mailing from being shipped. USPS has specific dimensions for different postal categories. Here are some of the requirements and dimensions for mailings to be accepted as first class. Remember that length is considered to be the dimension parallel with the address and height is the dimension perpendicular to the address.
There are differences between First Class and Standard mail, and it is essential to know which option to use for your mailing. This usually depends on how fast you need something shipped, and if you will need the undelivered mailings returned to you.
Standard and First Class Post Card Requirements
Length: 5.5 inch minimum to 6 inch maximum (5 inch minimum for standard mail)
Height: 3.5 inch minimum to 4.25 inch maximum
Thickness: 0.007 inch minimum to 0.25 inch maximum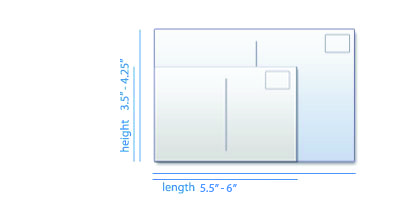 Standard and First Class Letter or Envelope Requirements
Not all envelope sizes will qualify for First Class mail, so make sure you know the
different available sizes.
Length: 5 inch minimum to 11.5 inch maximum
Height: 3.5 inch minimum to 6.125 inch maximum
Thickness: 0.007 inch minimum to 0.25″ inch maximum
Additional:
Letters that are non-machinable
in one or more ways are subject to a non-machinable surcharge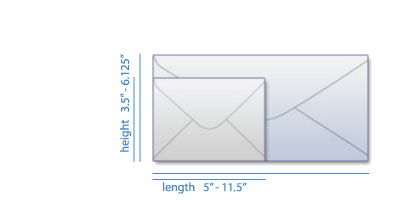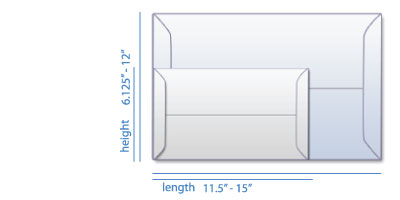 Standard and First Class Large Envelope Requirements
Length: 11.5 inch to 15 inch Max
Height: 6.125 inch to 12 inch Max
Thickness: 0.25 inch minimum to 0.75 inch maximum
Additional: Large envelopes that exceed one of these characteristics, are rigid, nonrectangular, or not uniformly thick can be subject to package prices
Package Requirements
Packages can be sent First class as well as long as they correspond with these restrictions:
Contents must not weigh more than 70 lbs. Lower weight limits may apply.
The max. size for packages is length + the distance around the largest point = 130 inches.
Girth is the distance around the thickest part of the package. In most cases, the maximum combined length and girth is 108 inches. If larger, you'll need to take it to a Post Office™ and ship with Standard Post service.