About our funeral / memorial printing services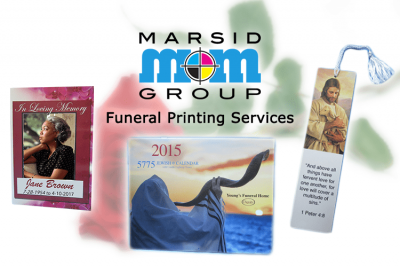 There is nothing harder than dealing with the loss of a loved one. Making arrangements and planning an event to honor the deceased in a respectful way can be a stressful process that nobody wants to go through. The Marsid M&M Group offers special printing services for these unfortunate occasions. We will provide you with an immediate quote, and get your memorial printing completed in a speedy fashion. We also offer design services to add a professional touch to your memorial printing and take away the worry of having to design it yourself. We are also able to offer affordable prices, high quality in small quantities and super fast turnaround times due to our state of the art printing facility. We can also exceed your time constraints with same day printing, next day printing, and 24-hour printing which includes free shipping via UPS ground service.
Explore all of our products
Almost all of our products are perfect for memorials. Explore all of our products, submit a quote now and a printing expert will review your quote!