EDDM Postcard Mailing
Targeted and Cost-Effective Direct Mail Solutions for Your Business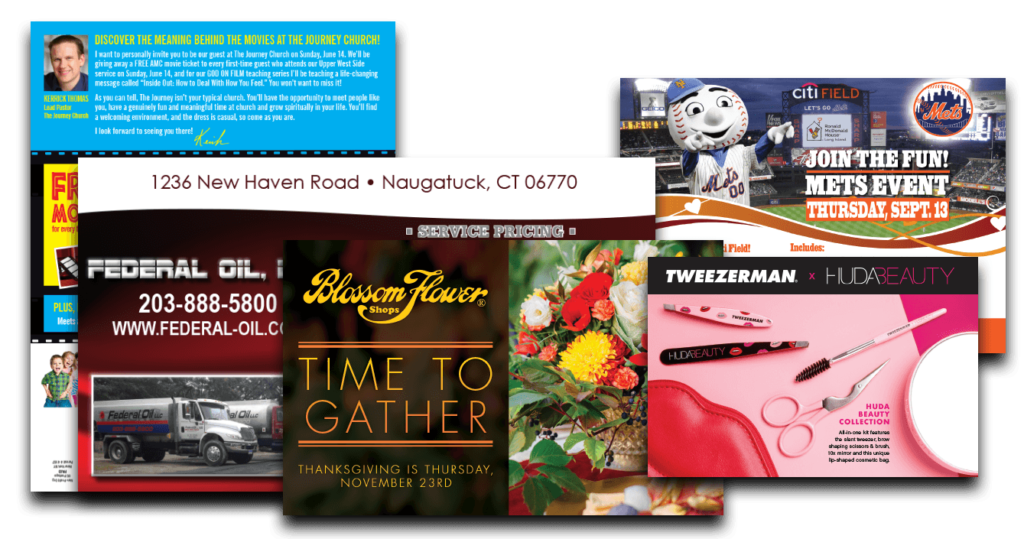 About EDDM Postcard Printing
Every Door Direct Mail Postcards are available in standard sizes and custom sizes between 6.25″ x 9″ and 12″ x 15″. Uncoated Matte and Gloss Stocks are available with an option for High Gloss UV Coating. Fast turnaround of two to five days for most orders.
EDDM Postcards are a great way to reach whole neighborhoods. Low postage rates and high visibility of your message make EDDM the perfect choice for your next advertising campaign. Another plus of this type of mailing is that postcards can be up to 12″ x 15″ which makes for some great exposure!
With The Marsid M&M Group, we make sending out your EDDM simple, quick and efficient. We have an in-house design team that can help set up your postcard, or you can upload your own file. After that, we can print, bundle and attach the proper paperwork to your mailing.
Contact us today to discuss your project, and we can help you select your mailing routes and discuss the best options to fit your specific mailing!
The Marsid M&M EDDM Postcard Printing Difference
Hospitality level service meets printing expertise
With over 45 years of experience, we know a thing or two about exceeding our client's expectations. Each project is assigned to your own print professional who will see your eddm postcard printing through the print process and will be available to answer all of your printing questions.
Order what you need, not what the industry thinks you need
With our state of the art custom print shop, we can print any quantity! From 1 to 1,000,000 or anything in between.
Custom sizes and ideas with ease
Our expert print specialist can assist you with any of your custom printing needs whether it's a size not listed or even a postcard in the shape of a printing press! We can do it.
A unique addition to each eddm postcard with variable data
Use Variable Data to personalize your eddm postcards. Variable data is proven to drive significantly higher response rates, more repeat orders, greater customer loyalty so you have a higher return on marketing dollars.
Industry changing turnaround time
With our state of the art facility, we are able to complete most custom eddm postcard jobs in 3-5 business days from proof approval. Need it faster? Most products qualify for one-day production! Ask your sales representative for more details.
EDDM Requirements
Finishing
Paper
Related Products
Helpful Articles
EDDM Requirements
EDDM (Every Door Direct Mail) is a type of Postage that delivers mailpieces to every door in a specified mail route or zip code. To choose your mailing routes, visit this link.
The USPS requires all EDDM Mailings to be:
at least .007″ thick
Between 200-5000 pieces per day
Less than 3.3 oz
Also, One of the following conditions must be met to qualify for EDDM (Length is always the longest side):
Finishing
Paper
Related Products
Helpful Articles
Shipping Options
Free Shipping via Ground!
We ship your order via Ground free of charge.
Check the map
to see how many days your package will be in transit.
Overnight, 2 and 3 Day Shipping
You might need it by tomorrow morning or even 2-3 days from now – We have you covered.
Ship It Your Way Using Your Account
Having your own shipping account has its perks. Feel free to supply us with your preferred shipper's account number.
For more information, terms and conditions of free shipping and detailed shipping times click here.