Mini 4 Panel or Custom Fold Menus
Pocket Menus are small folded menus that can be used to list menu items, nutrition facts, or information about the food being served or packed. The most common size for pocket menus are 4″x 10″ folded down to 2.5″ x 4″ creating 4 double sided panels. You have the option of printing these on gloss text (paper weight) or cover stock in glossy, matte or uncoated finishing.
These menus are usually folded using the double parallel fold (pictured below) but can also have custom folding options. We can also print any size, so there can be more than 4 panels or larger panels if you desire.
Pocket Menus are commonly left on order counters, or attached to retail or packaged food sales. They can provide extra information such as recipes, ingredients, company history, additional pictures and more. With the nice division into 4 double sided panels, you can easily create a menu that is separated into breakfast, lunch, dinner, apps, catering, drinks, desserts, etc.
Folding Options
Paper Options
Related Products
Helpful Ideas and Articles
Folding Options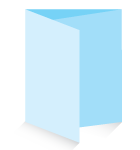 Tri Fold Menu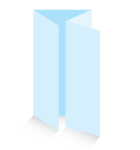 Double Parallel Fold Menu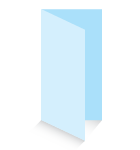 Half Fold Menu
Paper Options
Related Products
Helpful Ideas and Articles
Choose the correct Take Out Menu template by selecting the appropriate size and format below.
These templates contain visual guides to help you create print-ready artwork that you can later upload to us for printing. If you need an estimate, please fill out the Estimate Request Form above.
Shipping Options
Free Shipping via Ground!
We ship your order via Ground free of charge.
Check the map
to see how many days your package will be in transit.
Overnight, 2 and 3 Day Shipping
You might need it by tomorrow morning or even 2-3 days from now – We have you covered.
Ship It Your Way Using Your Account
Having your own shipping account has its perks. Feel free to supply us with your preferred shipper's account number.