Effective Catalog & Booklet Marketing
For both large and small businesses; a good booklet or catalog will attract new clients, show existing clients your competitive advantages, as well as impress the great and the good. Choosing to invest in a high quality and lavish booklet or catalog will demonstrate to the market and competitors that you and your company are doing quite well. Before you promote and product and/or service, you must decide on whether to produce a catalog or a booklet.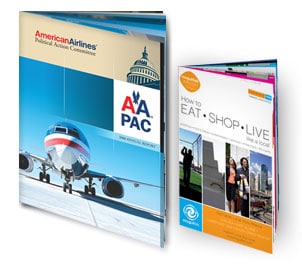 Catalogs vs. Booklets
Before producing any form of print, you must decide on whether to produce a catalog or a booklet. Although they are similar, they contain a key difference. The main dissimilarity is that catalogs encourage direct sales while booklets promote sales leads. Although every company wishes to close on direct sales when they can, most will actually find that advertising with booklets is more beneficial.
When trying to decide whether to pursue a catalog or a booklet advertising campaign there are a couple of things that should influence your decision. Typically speaking, catalogs are reserved for only business-to-consumer sales. On top of promoting direct B2C sales, your company should also be able to offer the consumers a vast variety of products. If your company contains neither a variety of products nor attempts to promote B2C sales, then catalogs are not for you.
Generally speaking, catalogs do not properly suit the majority of operations, and so companies often turn towards booklets for their marketing needs. Unlike catalogs, booklets promote sales leads rather than direct sales. Booklets are frequently used to either promote business-to-business types of sales or promote expensive and highly customizable products. If an organization can only offer customers a service, then they will always use booklets to promote their brand. When properly executed, booklets will not only educate the reader but it will also advertise the next step to be taken towards the buying process.
Producing an Effective Catalog
When creating your
catalog
it is important to understand that your cover page will be the most important part of the document. Your cover must stand out from the competition in order to get noticed and entice sales. This is where you will lure and invite the reader to continue browsing through the entire catalog. Although the interior may include great discounts, deals, and coupons; a poor cover can make your catalog be deemed as waste.
The cover page is the first opportunity to prove to the reader that your company has exactly what they are looking for. Most catalogs will include a scene that tends to relate with current events; however they lack bold headlines and product overview. It is still recommended to include a scene; however it is also preferred to include catchy, bold, and inviting headlines. These headlines should comply with images of your capital products and hot deals.
The interior of your catalog is quite simple to coordinate and should follow basic protocol. Majority of catalogs will simply include almost all of the company's products along with brief descriptions and promotional deals. It is very important to use big pictures and a simple layout to provide plenty of room for text and headlines. Through the use of text you must always remember to call for action. You should always attempt to convince the reader not to wait any longer and to order your merchandise right now. Provide incentives like, "10% off all orders through September 15!" that will convince them to order as soon as possible.