Keep Track of Attendance and New Visitors
Visitor cards are used by churches for a variety of different purposes. Most commonly they are left in pews for visitors to leave notes and information about themselves and their own organization. This is a great way to correspond with your visitors and provides an opportunity to better share your message with attendees.
We can print any custom design you would like on your cards and can have custom fields for visitors to fill out on the back. Personalized logos, scripture and messages can have a great impact on your visitors experience at your church. It shows that your organization is attentive to the whole experience of their church-goers.
Visitor cards can be printed in full color on both sides or just on the front. They can also come in a variety of custom sizes and can be either flat or folded over. Visitor cards should be relatively easy to fill out and can be collected along with donations or in a collection box.
Folding Options
Paper Options
Related Products
Helpful Ideas and Articles
Folding Options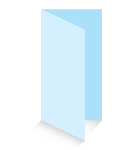 Bi-Fold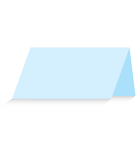 Half-Fold Landscape
Paper Options
Related Products
Helpful Ideas and Articles
Templates
Choose the correct Greeting Card template  by selecting the appropriate size and format below.
These templates contain visual guides to help you create print-ready artwork that you can later upload to us for printing. If you need an estimate, please fill out the Estimate Request Form above.
Shipping Options
Free Shipping via Ground!
We ship your order via Ground free of charge.
Check the map
to see how many days your package will be in transit.
Overnight, 2 and 3 Day Shipping
You might need it by tomorrow morning or even 2-3 days from now – We have you covered.
Ship It Your Way Using Your Account
Having your own shipping account has its perks. Feel free to supply us with your preferred shipper's account number.