Booklets for Giveaways, Discounts and Membership Packages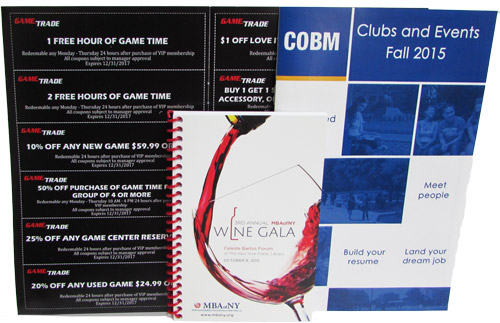 How Custom Coupon Books Can Help Your Business
Many companies use coupons to entice customers to shop at their store or use their services – why not give your customers entire coupon books! A good variety of offers can attract all different types of people who have different shopping habits.
These coupon booklets are completely custom and can be set up any way you wish. Choose any number of pages you want and size you want. You can make each page an individual coupon or set up each page to have multiple coupons. These coupon booklets can be used as either a promotional giveaway or a membership program with different rewards.
Customize your coupon books with perforated pages, bar, odes and QR scans to make it easy for your customers to take advantage of your offers. There are also several bindery options available, as well as padded coupon books, or individual coupons. A professionally done coupon booklet will boost your sales and attract many new customers.
Templates
Choose the correct Booklet template by selecting the appropriate size and format below.
These templates contain visual guides to help you create print-ready artwork that you can later upload to us for printing. If you need an estimate, please fill out the Estimate Request Form above.