Perfect for booklets and presentations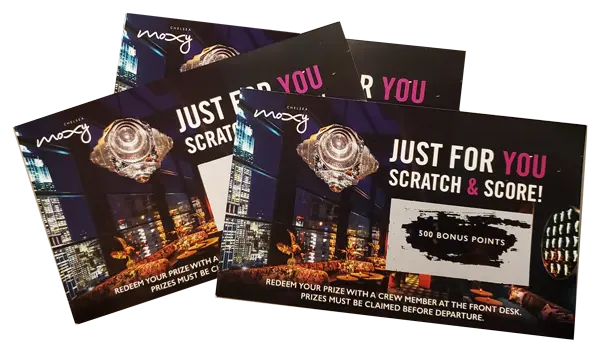 The scratch offs always make your customers curious and excited. It is one of the most effective ways to grasp the attention of your prospective customers. Whether you are giving away scratch cards with your products or coupon codes for discounted products or distributing the scratch-off cards as a part of your fundraiser campaigns to give a reward for funds contribution, scratching off always leaves a lasting impression on the minds of your customers. It makes them come back to you for more. The compelling scratch-offs offer a cost-effective and perfect way to boost the interest of potential customers in your postcards, newsletters, coupon codes, vouchers, menus, and much more.
As a leading printing company, we offer fully customized scratch-off printing services. Our top-quality scratch-offs not only keeps your customers engaged but also contribute to the popularity of your products or services. From sweepstakes to discount codes, from tickets to winning numbers, names, locations, or images, you can have anything printed underneath the attention-seeking colorful scratch-offs.
Customized Scratch-Offs Tailored to Your Requirements
Scratch off is basically a heat foil stamping process that is often printed to hide text, numbers, or images. This removable printing is removed using the coin edge, revealing information underneath it. A standard or customized die is used for pressing the foil on the surface, leaving the pressed foil impression in a particular area.
Although the standard shape of scratch-offs is rectangular, we can customize the shape according to your requirements. In addition to shape, we also offer a range of colors, including gold, silver, gunmetal, pink, and blue, to make scratch-offs more vibrant and compelling for your potential customers. Consider using unusual shapes and colors of scratch-offs such as sunglasses shape in black color or mustache shape scratch off in brown color to add a zesty touch to it.
Unique Features to Make Scratch-Offs Prominent
Consider using the following unique features to add special effects to scratch-offs and make them prominent.
Different coloring options
Choose from the range of coloring options, including gold, silver, gunmetal, pink, and blue to make it pop.
Use for Variety of Information
Hide the discount codes, winning numbers, barcodes, locations, images, PINs, sweepstakes, and much more under it.
Option of Full-Color Printing On High-Quality Paper
Have scratch-offs printed on the high-quality paper with full-color printing for durability, sharp and vibrant colors.
Custom Foiling Option
With custom foiling shapes, create your unique scratch off that leverages your printed item and gives you maximum returns on your investment.