Easy and Effective Direct Mail
Direct mail marketing has proven time and time again to be a valuable marketing tool not only for businesses, but for nonprofits and universities as well. Postcards are a personal way to send a message to your audience, and are effective in getting direct exposure to your members.
The standard size for a postcard is 4″ x 6″ but we can print custom sizes as well. Keep in mind though that to qualify for postcard mailing rates, the card must be larger than 3.5″ x 5″ and cannot be larger than 4.5″ x 6″. EDDM Postcards on the other hand can be very large, ranging up to 15″ long and 12″ high.
Many colleges and universities use postcards as a recruitment tool for new students. With so many education options to choose from, a postcard could be a good reminder for potential students to apply to your program, take a tour of the campus, or talk to an admissions counselor.
Non Profit Mailing Rates
Non profit organizations can benefit from special postage rates that allow them to send out large mailings at a discounted rate. To be eligible for nonprofit pricing, you will need to apply for a permit with the USPS.
Additional Features
Paper Options
Related Products
Helpful Ideas and Articles
Additional Features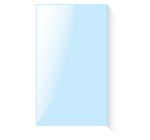 UV Coating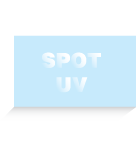 Spot Varnish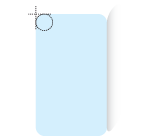 Round Corners
Paper Options
Templates
Choose the correct Postcard template by selecting the appropriate size and format below.
These templates contain visual guides to help you create print-ready artwork that you can later upload to us for printing. If you need an estimate, please fill out the Estimate Request Form above.
Shipping Options
Free Shipping via Ground!
We ship your order via Ground free of charge.
Check the map
to see how many days your package will be in transit.
Overnight, 2 and 3 Day Shipping
You might need it by tomorrow morning or even 2-3 days from now – We have you covered.
Ship It Your Way Using Your Account
Having your own shipping account has its perks. Feel free to supply us with your preferred shipper's account number.