Stationery for Schools and Community Organizations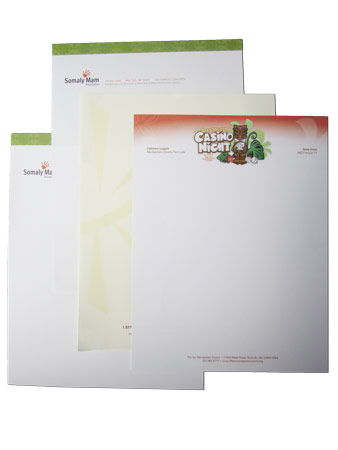 Professional letterhead can add a sense of credibility and legitimacy to your organization. When presenting your mission and cause, you want your organization to come off as sincere to create a formal relationship between you and your members. Having your logo printed on specialty paper can make a big difference on first impressions and on how involved your audience is with your organization.
Many schools and universities make effective use of letterhead as well. With so many formal communications sent out to students, faculty, and administrators, schools can make good use of letterhead. Formal letterhead will add prestige and regard to your message.There are several options when to consider when planning your letterhead print job. We specialize in printing specific Pantone (PMS) colors for exact color matching and we can also print 4 color process (full color). When choosing your color, consider that black ink also counts as a color.Letterhead stock comes in plenty of different varieties. The two main things to consider are paper color and style. Most types of paper come in different offsets of white, and you can request samples to see the true color. The other variable is style, and some of the most common are:
This is a very textured paper with horizontal thick ridges running throughout.
This stock has thin lines running through it in both directions creating little squares to give it a soft, natural look.
This stock has a smooth finish with very slight grooves, creating a fine texture.
Strathmore has a medium grainy texture in an unpatterned layout.
Paper Options
Additional Features
Related Products
Helpful Ideas and Articles
Paper Options
Linen
Our elegant linen stock has a light checkered pattern, making it textured to the touch. A great choice for weddings, invitations, anniversaries, and more!
Classic Crest
This stock is only slightly textured, giving it a rather smooth feel, but the appearance of a natural-stock paper. A great choice for professional industries.
Offset
Our uncoated stock is a superior natural-feel paper that is not glossy. It is perfect to write on and is great for business cards, notepads and greeting cards and letterhead.
Classic Laid
This stock has a very rough texture to it, making it stand out among ordinary paper. It is very elegant and is often used in fields such as law or upper education.
Additional Features
Related Products
Helpful Ideas and Articles
Templates
Choose the correct Letterhead template by selecting the appropriate size and format below.
These templates contain visual guides to help you create print-ready artwork that you can later upload to us for printing. If you need an estimate, please fill out the Estimate Request Form above.
Shipping Options
Free Shipping via Ground!
We ship your order via Ground free of charge.
Check the map
to see how many days your package will be in transit.
Overnight, 2 and 3 Day Shipping
You might need it by tomorrow morning or even 2-3 days from now – We have you covered.
Ship It Your Way Using Your Account
Having your own shipping account has its perks. Feel free to supply us with your preferred shipper's account number.