Custom Pocket Folders for your Organization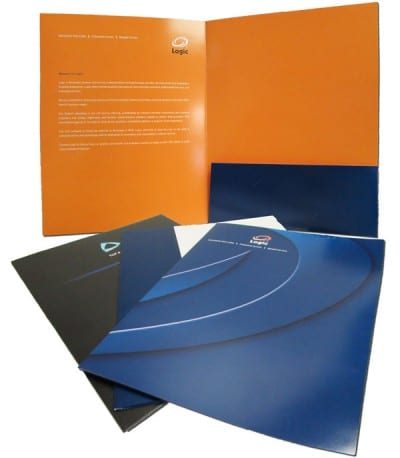 Presentation folders are an extremely useful way to arrange your printed materials for nonprofit organizations. Schools can use folders to store orientation materials, nonprofits can use them to present project proposals, and charities can use them for information and donation packets.
The standard size for a presentation folder is 9″ x 12″ but we can also print custom sizes! There are several types of paper stock available as well, with options for gloss coating on both sides (C2S), the outside (C1S) or uncoated.
Pocket Folders can be spruced up with some of these options as well:
Pockets
The feature that makes it a folder – our custom folders can have 1 or 2 pockets. We can also die cut them to be custom shapes or have slits so you can insert business cards, CDs or other inserts!
Gloss Coating
We offer Aqueous and UV coating to add an extra shine and protective layer to the outside of your folders. This is important if you want to protect the materials inside. Spot UV coating is an eye-catching feature for presentation folders that can highlight a logo or a certain part of your design.
Inserts
A folder is useless without some high-quality printed inserts. Pair your folder with informational brochures, flyers, postcards, newsletters and more. You could also stuff your folders with promotional products such as pens and stickers!
Give us a call at 1-877-mmprint to talk to a presentation folder specialist for expert advice on your next print job!
Templates
Choose the correct Presentation Folder template  by selecting the appropriate size and format below.
These templates contain visual guides to help you create print-ready artwork that you can later upload to us for printing. If you need an estimate, please fill out the Estimate Request Form above.
Shipping Options
Free Shipping via Ground!
We ship your order via Ground free of charge.
Check the map
to see how many days your package will be in transit.
Overnight, 2 and 3 Day Shipping
You might need it by tomorrow morning or even 2-3 days from now – We have you covered.
Ship It Your Way Using Your Account
Having your own shipping account has its perks. Feel free to supply us with your preferred shipper's account number.