Thermography Ink on Premium Quality Cardstock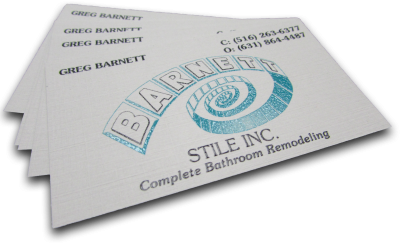 Why Thermography
Business Cards printed with Thermography will give you cost effective and professional cards with raised ink. These raised ink cards also have a fast turnaround and free shipping. Raised ink business cards can be printed with spot PMS colors or standard colors. They can also be printed on a variety of premium paper stocks to really make your business card stand out. Using standard ink colors is the most economical option for thermography printing.
What is Thermography
Thermography is the process of applying and heating the ink to give it a raised texture. Instead of being absorbed by the paper like traditional ink commonly is, raised ink printing lays the ink on top of the paper creating a 3D effect.
This technique is especially useful for business cards because they are usually closely examined by the person you give them to. Your potential customers will take notice to the quality of the card, and the card will improve the credibility of your business and the impression that they receive.
Marsid M&M Thermography Business Card Printing Difference
Each project is assigned to your own print professional who will see your Thermography Business Card printing through from proofing to shipping.
With over 40 years of experience, we know a thing or two about ensuring we exceed our client's expectations.
Since we are customer service experts we can work with you to make sure your ideal Thermography Business Card Printing project comes to life the exact way you would like.
Free ground shipping is included on all orders within the contiguous United States
With our state of the art facility, we are able to complete most jobs in 5 business days from proof approval. (Ask your sales rep for production time on your order)
Standard colors
Paper Options
Related Products
Helpful Ideas and Articles
Standard colors
Black
Reflex Blue
Process Blue
Red (PMS 185)
Brown (PMS 470)
Purple
Burgundy (PMS 207)
Green (PMS 355)
Forest Green (PMS 357)
Orange (PMS 151)
Teal (PMS 320)
Gray (PMS 423)
Gold (PMS 873)
Bordeaux (PMS 221)
Paper Options
Related Products
Helpful Ideas and Articles
Shipping Options
Free Shipping via Ground!
We ship your order via Ground free of charge.
Check the map
to see how many days your package will be in transit.
Overnight, 2 and 3 Day Shipping
You might need it by tomorrow morning or even 2-3 days from now – We have you covered.
Ship It Your Way Using Your Account
Having your own shipping account has its perks. Feel free to supply us with your preferred shipper's account number.
Choose the correct Business Card template by selecting the appropriate size and format below.
These templates contain visual guides to help you create print-ready artwork that you can later upload to us for printing. If you need an estimate, please fill out the Estimate Request Form above.