Weather Resistant Printing that Feel Like Paper
Synthetic Paper is a special material that is great for weather resistant printing. Not only does it have the feel and look of a high quality, thick paper, but it is also extremely durable. Since this paper is made out of plastic, it is naturally waterproof, tear proof, and fire resistant. If you are looking for weather resistant printing and need it to stand up to tough conditions such as water, heat, and wear then look no further. Weather Proof Printing will last much longer than any other paper printing, and will look great too!
There are several benefits to printing on synthetic paper as well. The printing goes right onto the paper with synthetic printing instead of printing on paper and laminating over it. This way, your project is still lightweight and flexible. Images and text will be crystal clear printed directly on the synthetic paper.
Synthetic printing can be used to make either single page projects or books!
Bindery Options
Paper Options
Related Products
Helpful Ideas and Articles
Bindery Options
For More Information check out our Bindery Options Page or click on the images below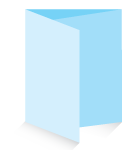 Folded
Trifold, Bifold, or Custom Fold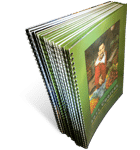 Wire-O
Sheets are bound using double loop metal rings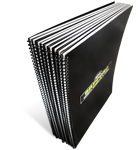 Spiral Bound
A plastic coil is used to bind pages together
Paper Options
Related Products
Helpful Ideas and Articles
Shipping Options
Free Shipping via Ground!
We ship your order via Ground free of charge.
Check the map
to see how many days your package will be in transit.
Overnight, 2 and 3 Day Shipping
You might need it by tomorrow morning or even 2-3 days from now – We have you covered.
Ship It Your Way Using Your Account
Having your own shipping account has its perks. Feel free to supply us with your preferred shipper's account number.